A
R
T
I
C
L
E
S

H. PAUL BREHM
WWII VETERAN INTERVIEW
Introduction
July 29, 1945, on board USS Ticonderoga in the Pacific Ocean:
" TF38.3 TO AG-87:.MESSAGE CONCERNING YESTERDAYS OPERSTIONS:,.THIS HAS BEEN A TOUGH DEY , FOR TASK GROUP YET,.THE RESULTS HAVE BEEN GOOD X ANUMBER OF ,.PILOTS HAVE BEEN LOST ALTHOUGH MANY HAVE BEEN,.RECOVERED X ON THE GOOD SIDE PHOTOS SHOW THE ,.HYUGA THAT BASTARD BATTLESHIP IS ON THE BO-,.TTOM X THE CRUISER TONE MAY BE AFLOAT BUT ,.SHE IS NO BARGAIN EVEN IN WOOLWORTHS BASEM-,.ENT , X THREE SUBS MADE THEIR LAST DIVE FOR THE ,. JAPS THREE MERCHANT SHIPS WERE SUNK,.A DESTROYER WAS LEFT SINKING AND 8 SHIPS ,.DAMAGED X ALOFT OUR PILOTS RAN INTO ,.HEAVY OPPOSITION AND SPLASHED 13 NIP FIGHTERS,.AT END OF DAY OUR CAP SPLASHED A WANDER-,.ING JILL XM,. "


So announced the teletype on-board the aircraft carrier USS Ticonderoga on July 29, 1945 after the bombing of Kure and the last major fleet units of the Imperial Japanese Navy. During those few days Task Force 38 – which included Ticonderoga – bombed and sank the Japanese battleships Hyuga, Ise and Haruna, the aircraft carrier Amagi, the heavy cruisers Tone and Aoba and the scout cruiser Oyodo. Several older training cruisers, submarines and destroyers were also sunk in these heavily contested raids that not-so-quietly eliminated what remained of the Imperial Navy, which until that point had remained a threat despite their inadequate fuel supply. Other ships were also damaged in the raids, including Amagi's sister carrier Katsuragi and the old carrier Hosho. This final act of retribution for the Pearl Harbor attack is mostly forgotten today, but the aircrews and sailors caught-up in this short but violent campaign witnessed some of the last organized fighting to take place before atomic weapons and the Soviet declaration of war spelled certain defeat to the Japanese government.

The following conversations and accounts are courtesy of Lieutenant Commander (R) H. Paul Brehm, an SB2C dive bomber pilot who took part in the air attacks on Hyuga and Tone as a member of VB-87, which operated from USS Ticonderoga. Because both Japanese warships received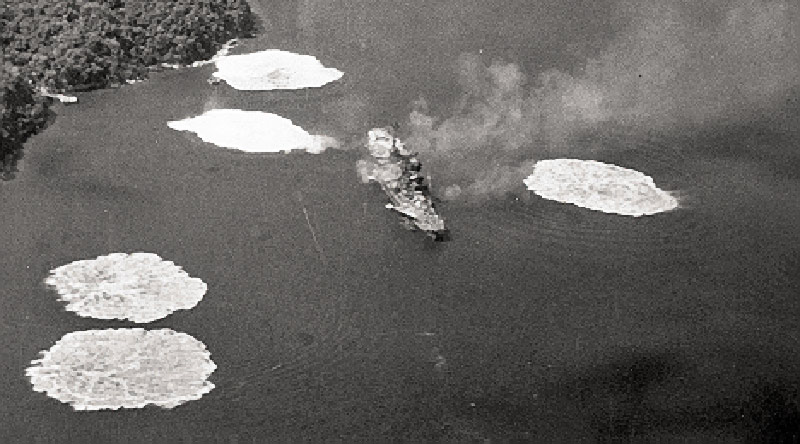 multiple hits in rapid succession (the bombing interval between planes was five seconds) no one person is credited with their sinkings. Then Lieutenant (jg) Brehm however, did place one of his 1,000 pound bombs into the stern of the Hyuga and another close alongside the Tone, winning a Navy Cross for "...contributing materially to the sinking of the hostile vessel" in the case of Hyuga. Even without these successes, his mere presence at the scene made him a valuable eyewitness to these events and others which occurred in 1945 and earlier in 1943 when he served in the Solomons campaign.

The idea for this interview came one day when Paul and I were talking about his search for Hyuga images and he mentioned the teletype. "Teletype?" I asked. "Yeah." he replied, "I've still got it."
As it turned out, he had kept the original paper tape that came off the teletype machine on-board Ticonderoga at the conclusion of the Kure airstrikes, and he still had it in his study. The text of the message appears as part of our introduction, exactly as it appears with no edits. Combined with other rare images that Paul kindly made available for use, an interview became the next obvious step.

In March, 1999, Paul visited six of the Japanese crewmen who were on board Hyuga when she was sunk, and they jointly attended a ceremony at Kure for the Americans and Japanese who died in these attacks. Both sides were deeply moved and impressed at how much they had in common. A short while after he returned from Japan, Paul and I sat down and talked on-camera for a few hours about the Pacific War, both in the Solomons and off Japan – we hope to eventually expand the interview as it stands now with those taped interviews. Unfortunately in early 2002 Paul passed away due to a sudden illness and he was buried at Arlington National Cemetery. Those who knew him will miss his keen and witty humor. He was rarely bothered by those many little things that average people consume themselves with.

This interview is special because it combines a detailed account of key actions from the Pacific War with rare, previously unpublished images and special side stories like the veterans gatherings of 1999. All combined it makes for a valuable account of the Pacific War up to its final days.