A
R
T
I
C
L
E
S

H. PAUL BREHM
WWII VETERAN INTERVIEW
Hyuga Veterans Gathering: Kure, Japan 1999
As a result of his research about the 1945 airstrikes against the battleship Hyuga, Paul Brehm came to be invited to visit Japan and meet with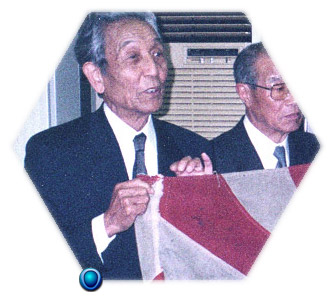 several of Hyuga's former crew. His arrival was greeted by local press and there were several private meetings - including one with a former Hyuga officer - before a smaller group visited the site of the airstrike at Nasake Shima Island near Kure. The waterborne portion of the trip was conducted courtesy of the modern day Japan Maritime Self-Defense Force who supplied a vessel for the ceremony. One of the better photos of Paul was taken on-board the Japanese Navy ship.

Afterward, while visiting the Japanese naval museum and archives in nearby Kure, the four participating crewmembers surprised Paul by displaying their ship's battle flag, which has been kept safe all these years. The flag and many one-of-a-kind historical artifacts are carefully preserved at the museum. They are not normally accessible to the public, but for this visit the veteran crewmen were allowed to pose with the flag that flew on Hyuga during World War II, including the day that Paul's squadron attacked. According to Paul, the flag has numerous shrapnel and burn marks.

Although there was a considerable language barrier, local translators from the Hiroshima Friendship Center kindly volunteered their services and conducted all translations for both American and Japanese veterans for the duration of the visit.